Belt Conveyor Models to Handle the Toughest Conditions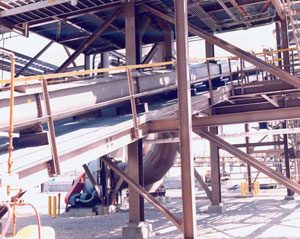 You might need a belt conveyer to haul ton after ton of iron ore up a 20-degree incline – if that's the case, do you want to buy the same model someone else uses to haul light-as-air fly ash? We didn't think so. That's why at MHE we customize your belt conveyor to meet your needs. They can start as overland, channel stringer, truss, gallery, pipe, or pocket types that we then customize to work seamlessly in your facility. Our engineers can customize an entire belt conveyor system for your factory if it's in need of major updates, or they can design you the perfect component for a small addition to an existing system. With more than 80 years of experience, you can be assured that MHE will be at home in your factory and familiar with your goals and needs, no matter what material you want to move with your new belt conveyor.
The industries we work with include:
Power & Utility
Construction
Mining & Minerals
Pulp & Paper
In addition to custom design, MHE also offers you unparalleled ruggedness. We manufacture all of our equipment to withstand the high heats, abrasion, and corrosion present in the harshest industrial environments. As a result, many of our machines have been running in factories longer than some of our competitors have been in business.
Click here to contact us for more information on our belt conveyor design options.