Parts and Service: Prioritized Conveyor Support
Nothing can be more incapacitating to a business than shutdown conveyors. Profits cease and labor costs are wasted. MHE understands how important conveyors are to any business' operations, and that's why we make our parts and service one of the highest priorities;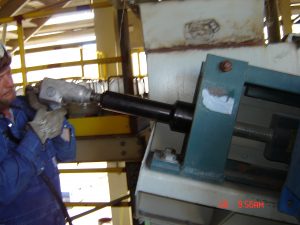 we know it becomes your highest priority if the outage is not planned. For this reason, MHE offers Critical Care Service to ensure the best solution to get you running as quick as possible. Only MHE provides custom conveyors and custom components to each of its clients, and we approach parts and service with the same mentality; we provide services based on your individual needs. Our direction is to provide you with the most optimal solution for your conveyors and other material handling equipment needs. These aren't just words – it's our commitment to our customers and has been for nearly a century.
Our service technicians work with you from design and installation all the way through to installation assistance, parts, service, maintenance and operational training on your conveyors. Some of the services that our technicians perform throughout the entire conveyor purchase process are:
System Integration and Support – MHE engineers work side-by-side with our customers to fully understand the application and the demands expected of the equipment.
Installation assistance – During the installation of your conveyors, a MHE service technician will be present to supervise all aspects of installation and to ensure that your conveyor or conveyors are installed properly.
Documentation – Our technicians keep careful documentation throughout the entire process of conveyor design, installation and maintenance to insure the proper part is used and will last.
Training and support – MHE will provide any training or operational support that you may need once the installation of your conveyors are complete and operation satisfied
Conveyors are an integral part of many industries and having a conveyor manufacturer that is not only reputable and dependable, but also places a high priority on the things that happen following your conveyor installation like parts and service is part of our commitment.
Our conveyors are all designed and built to withstand extremely harsh conditions; however, there are consumable parts designed into the equipment, and component failures can occur in these applications. With MHE you can trust that we place a high priority on your operation and our conveyor parts and service. We also provide consulting services, and spare parts for all conveyors from other manufacturers – even those no longer in business.
To contact MHE for more information on our parts and service click here.