Custom Screw Conveyors Designed and Built to Last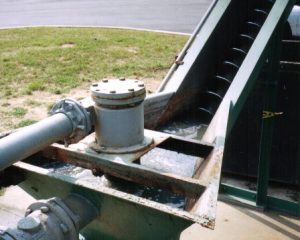 Screw conveyors from Materials Handling Equipment (MHE) can be custom engineered and manufactured to meet your individual requirements, thus forfeiting the extra expenses incurred from purchasing standard built screw conveyors that may not fit your requirements exactly, and have minimal design and operation abilities costing more over the long term.
Since the 1920s, MHE has been engineering and manufacturing screw conveyors that not only meet CEMA standards – and as a key member during the development of many of the standards – but our screw conveyors actually exceed those standards because we have continuously improved our designs to meet the ever expanding needs of industry.  MHE's 90 plus years in business has established us as one of the most respected and trusted names in the industry.
Some of the features of MHE screw conveyors are:
Capacities to 300 TPH
Diameters to 6 feet
Lengths to 300 feet
Inclined models to 60 degrees
Temperatures to 2200 degrees F
Jig welded construction for precise alignment
Break-formed troughs and heavy duty formed flanges
Tubular, U-type, V-type, drop bottoms, box type and split troughs
Standard, ribbon, cut, and paddle flights
Units are completely assembled and tested
Hardfacing, 2-3-4 bolt coupling shafts,  Quick Keys, 4140 shafts
Easy maintenance from top and ends with unique access
Longer service life with heavy duty Ni-Hard bearings
Screw conveyors from MHE — great for ash handling — come in sectional; ribbon; cut-and-fold and serrated with quarter, third, half, and full pitch as well as double flighting and hardfacing.  MHE custom designs each screw conveyor for exacting requirements.  From design all the way through to service, MHE will be working directly with you to ensure your continued satisfaction with your screw conveyors.
To contact MHE for more information on screw conveyors click here today.