Drag Conveyors From Industry Leader Materials Handling Equipment (MHE)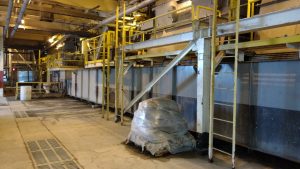 Materials Handling Equipment (MHE) is the industry leader in drag conveyors because we are able to engineer, manufacture, install and service our drag conveyors based on the individual needs of our clients. We engineer every one of our drag conveyors to meet the specific requirements of the jobs they are intended for, without any superfluous equipment that only hinders the capabilities of the machinery and adds unnecessary expense. Our custom designed drag conveyors improve operations, and reduce maintenance at the most economical prices available because we only build you the drag conveyor the application requires and you demand.
Our drag conveyors come in a wide variety of chains, liners, flighting and drives that are specifically suited to withstand abrasion, corrosion and extreme heat. Since the 1920s, MHE has supplied drag conveyors to numerous industries including power and utilities, chemical and construction. Our knowledge and experience have helped us become one of the most respected, and trusted manufacturers in the industry.
Some of the classifications of our drag conveyors are:
Siftings Conveyor
Submerged Chain Conveyor (SCC)
Clinker Conveyor
Grit Collectors
Wood Chip Reclaimer
Sludge Cake Conveyor
Deslagger
Our drag conveyors are custom engineered to meet your requirements:
Capacities to 500 TPH
Widths to 20 feet – Lengths to 200 feet
Inclined to 45 degrees
Temperatures to 2500 degrees F
Tubular, U-type, box, drop bottom, channel and split type casing construction
Replaceable Abrasion Resistant steel liners in critical locations
Dry or Wet type units with top or bottom return runs
Custom chain, 4140 shafts, high performance bearings,
Horizontal to Inclined designs with multi-outlet configurations
Additional wear protection, such as hardfacing of the chain and improved abrasion resistant liner plates or castings are available for faster speeds.
To contact MHE for more information on our drag conveyors click here today.