The Custom Conveyor Manufacturer that Businesses Trust – Materials Handling Equipment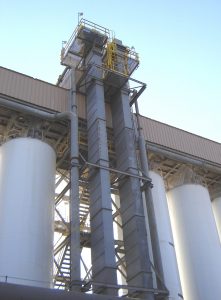 As the leading custom conveyor manufacturer in the United States, Materials Handling Equipment (MHE) is the preferred choice for businesses that need customized industrial conveyors designed to meet specific demands. We've been producing all types of heavy-duty custom conveyors since 1927, and our longevity is due in part to our ability to adapt our product lines to meet the evolving needs of a wide range of industries.
At MHE, we have the experience and knowledge needed to engineer a custom material-handling conveyor for the specific application your company requires, and the more extreme the conditions, the better. We specialize in manufacturing special-service conveyors, including ship unloaders, that perform flawlessly in conditions involving extreme temperatures, abrasion, and corrosion, and our conveyors operate reliably in some of the most punishing and severe conditions on the planet. Each conveyor is available in five different classes, including industrial duty, mill duty, heavy duty, cement mill duty, and severe duty.
The custom industrial conveyor products MHE offers include:
Drag Conveyors
We will use our expertise to engineer a drag conveyor that meets your plant's specific requirements. Drag conveyors utilize single- or double-stranded chains that are driven by a motor and pull bulk materials through a channel. Because of their reliability, they are one of the most popular types of conveyors.
Bucket Elevators
Bucket elevators are workhorses in the conveyor industry, as they can serve many important purposes for industrial facilities. As the name indicates, they are made up of several buckets that are attached to a chain or belt and carry bulk material vertically. They can be continuous, centrifugal, or high speed.
Screw Conveyors
Ideal for ash handling, screw conveyors move semi-solid or granular materials through a tube by way of a rotating helical screw blade, or "flighting." Sometimes referred to as an auger conveyor, screw conveyors are used for a wide variety of solid materials, including wood chips, aggregates, lime, cement, cereal grains, food waste, boiler ash, and more.
Pan Conveyors
Pan conveyors are characterized by a series of pans that are continuously fixed to an endless moving chain. They come in many forms, including apron, deep pan, and double-beaded, and can be used for light, medium, and heavy-duty applications where other conveyors may fail.
Belt Conveyors
Belt conveyors are a basic but popular option, as they carry bulk materials on a conveyor belt that is moved continuously by a head pulley or drum. They can be used for small, lightweight materials or heavy-duty applications, and can carry materials up inclines and long distances with impressive efficiency.
Whether your company needs a custom conveyor to transport ash, cement, clinker, phosphate, waste, or any other bulk material, we will work with your engineers to design a custom solution. And, because of our decades of experience in creating conveyors used by the energy, cement, steel, construction, chemical, and mining industries, we can apply the knowledge we've gained from previous projects when creating the best solution for your company's needs. Additionally, once your custom conveyor is on site and operational, MHE will ensure that your staff is trained on its operation. Our critical response program is also on call 24 hours a day, seven days a week, should any issues arise.
To learn more about the heavy-duty custom conveyor solutions offered by MHE, contact us today. We will be happy to answer any questions you may have.