Materials Handling Equipment Engineers Custom Conveyor Systems That Can Withstand the Harsh Demands of the Steel Industry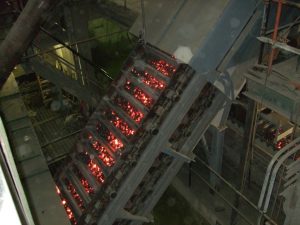 The steel industry requires heavy-duty conveyor systems that can withstand the most punishing of environments. At Materials Handling Equipment (MHE), that's exactly what we offer. Since 1926, we've been listening to the needs of companies involved in the most demanding industries on the planet and coming up with solutions for their bulk material conveying needs. We have a level of experience in the conveyor industry that the competition can't match, and we can custom engineer the perfect conveying option for you.
A Wide Range of Options
At MHE, the conveyor systems we manufacture benefit from flexible design and customized features, making them more reliable than the cookie-cutter systems offered by other manufacturers. And, because we use heavy-duty components, our conveyors are able to withstand corrosive, abrasive, and high-temperature environments, which can be common in the steel industry. Once we've evaluated your plant's requirements, the type of conveyor that we recommend will depend on the specific application it is needed for. Options include:
Screw conveyors
Bucket elevators
Drag conveyors
Pan conveyors
Belt conveyors
Apron conveyors
Additionally, we have the expertise needed to develop a custom conveyor system that can adapt to any specific steel industry application, just as we have previously done for the cement and coal industries.
If you would like to schedule a site visit so we can get started on a custom conveyor system for your plant, contact the trusted professionals at Materials Handling Equipment today.