Custom Belt Conveyors That Are Efficient & Reliable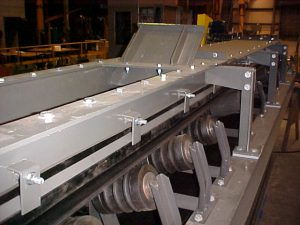 Materials Handling Equipment (MHE) manufactures custom belt conveyors that perform dependably in the most extreme industrial conditions. We've been delivering reliable conveyors to businesses in a wide array of industries since 1927, so you'll be hard-pressed to find a manufacturer that's better able to create a custom solution to your specific needs. While many other conveyor manufacturers produce "one-size-fits-all" products that need to be modified once on site, our belt conveyors are completely customized for all types of transfer applications.
Ready to Handle Any Job
We custom manufacture belt conveyors that can be effective for small, lightweight materials as well as options that are better suited for heavy-duty applications. Whether you're in need of a single-belt conveyor or a more involved system, there is no project too small or great for us to handle.
We provide overland, channel stringer, truss, gallery, pipe, and pocket-type belt conveyors for several different industries, including:
Power and utility, handling coal, petcoke, municipal solid waste, biofuel, biomass, wood waste, wood chips, ash, and bottom ash
Chemical, handling many different powders, dust, and countless dry bulk products
Cement, handling clinker, slag, limestone, synthetic gypsum, coal, ash, and gypsum
Mining and minerals, handling lime, limestone, gypsum, kaolin, iron, ores, bauxite, sugar, salt, zinc, copper, gold, silver, nickel, and more
Pulp and paper, handling wood chips, boiler ash, fly ash, and hot lime
What Differentiates Our Belt Conveyors?
Our industry experience, attention to detail, and use of heavy-duty components have helped us become a trusted industry leader. We utilize wear-resistant alloys and custom components that allow our belt conveyors to perform reliably in environments that feature extreme abrasion, corrosion, and temperature. What's more, we provide turnkey service that includes design, engineering, testing, installation, training, and maintenance.
Get Started Today
If you're interested in learning more about our heavy-duty belt conveyors, contact MHE today to schedule a consultation.