Custom Belt Conveyors Efficient, Dependable and Reliable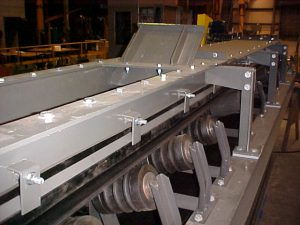 Belt conveyors from MHE are completely customizable.  We design and manufacture
belt conveyors for all type transfer applications.  From small, lightweight materials,all the way through to heavy-duty applications; from a single belt to entire systems, there is no project too small or too great for us to handle.  Our belt conveyors can be set to varying inclines up to 25° or multiple pitches, depending on the requirements of the application. MHE technicians will visit your job site and work with you to design your belt conveyors.  While many provide standard duty belt conveyors, we are also able to produce belt conveyors that are able to withstand even the harshest conditions, including those that are involved with abrasion, corrosion and high temperatures.

Our belt conveyors include overland, channel stringer, truss, gallery, pipe, and pocket type that are currently in use on the following applications, but are also customizable for your specific needs:
Power & Utility including Waste To Energy handling coal, petcoke, municipal solid waste, Biofuel, biomass, wood waste, wood chips, ash & bottom ash

Chemical & Process handling many powders, dust and countless dry bulk products

Cement handling clinker, slag, limestone, synthetic gypsum, coal, ash & gypsum

Mining & Mineral Industry handling lime, limestone, gypsum, kaolin, iron, ores, bauxite, sugar, salt, zinc, copper, gold, silver, nickel and countless others

Pulp & Paper handling wood chips, boiler ash, fly ash, and hot lime
Belt conveyors from MHE are reliable, sturdy, and efficient. Our technicians will work with you on an individual basis, no matter the size of your job.  MHE has been leading the way in belt conveyors and other material handling equipment since 1927, and we plan on continuing this tradition of personal customer service.  For this reason, we individually design, engineer, inspect, test and service all of our belt conveyors.
Choose MHE for your belt conveyors and you are choosing to be backed up by over nine decades of knowledge and experience.
To contact MHE for more information click here.