Custom Drag Conveyors, Apron Conveyors, Bucket Elevators & Screw Conveyors for Today's Chemical Industry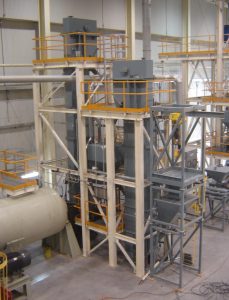 Custom drag conveyors, bucket elevators, screw conveyors from MHE are helping companies within the chemical industry win the battle to cut costs, remain profitable, and maintain peak operating efficiency. Choosing MHE affordable custom conveyors proves that you don't have to settle for inadequate equipment, constant material handling equipment maintenance, and poor customer service from equipment vendors. In today's ever evolving economy, engineering companies and operations managers are quickly learning that one way to cut costs is to get the right equipment for the job the first time around, and avoid problems down the road.
For the past 90+ years, MHE has been partnering with chemical handling companies like DuPont, Calgon Carbon, Innophos, BP, Dow, Hess Oil, Honeywell, Monsanto and others. By providing extra value at no extra cost, our custom conveyors are specifically designed to endure against the abrasion, corrosion, and harsh temperatures that are common in chemical-based industries.
MHE provides the chemical industry with custom conveyors that handle the following applications:
The line of custom conveyors at MHE is designed for your specific, exacting requirements. To ensure continued satisfaction with any of our custom conveyors, MHE works one-on-one with chemical engineers and companies across the nation, assisting them from design to installation to service.
Contact MHE today to learn more from our 90+ years of experience and for more information about how our custom conveyors, including belt, screw, apron, and drag, can increase operating efficiency throughout the chemical industry.