Heavy Duty Conveyor Designs for Your Company
If you need a heavy duty conveyor that cannot only survive the planet's harshest conditions, but can perform with optimum efficiency in them, you've come to the right place. Materials Handling Equipment has made a business out of constructing the toughest conveyors available for industries like mining and minerals; steel, cement and gypsum; power plants and energy; and pulp and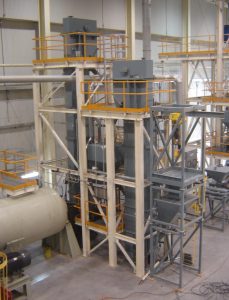 paper. We've classified the three most trying conditions as ACT – Abrasion, Corrosion and Temperature – and built our machines to withstand the worst of each. A heavy duty conveyor from us can last for more than 40 years, and it'll perform like new the whole time. So if you have to ACT – remember MHE.
We have several types of conveyors to suit your needs including:
Drag conveyors
Bucket elevators
Screw conveyors
Belt conveyors
Apron conveyors
With MHE, you never have to sacrifice performance for durability. While some companies churn out generic conveyors that you have to alter your processes for, MHE will design you a custom conveyor that perfectly suits the system you have in mind. A custom heavy duty conveyor from MHE won't cost anymore than a mass-produced version from another company, so you'll stay within budget. Our commitment to customer satisfaction continues well beyond the sale. We'll be on site when your new machine is installed and we offer a full selection of parts and services to keep you up and running for decades to come.
Contact us today for more information about how our custom conveyors can help you.