Heavy-Duty Conveyor Manufacturer Serving a Wide Array of Industries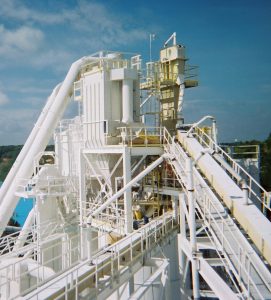 If you need a heavy-duty conveyor that can not only survive the planet's harshest conditions, but also can perform with optimum efficiency in them, you've come to the right place. Materials Handling Equipment (MHE) has made a business out of constructing the toughest conveyors available for industries like mining and minerals, steel, cement, energy, and pulp and paper. We've classified the three most demanding conditions as ACT—abrasion, corrosion, and temperature—and built our machines to withstand the worst of each. A heavy-duty conveyor from us can last for decades and perform like new the whole time. In fact, we're proud to note that many of our conveyors are still going strong more than 50 years after their original installation dates.
We'll Create a Custom Conveyor to Meet Your Plant's Needs
We recognize that each industry faces unique challenges because of the many different types of bulk material involved. With MHE, you never have to sacrifice performance for durability. While some manufacturers churn out generic conveyors that you have to alter your processes for, MHE will design a custom conveyor for your company that perfectly suits the system you have in mind. What's more, a custom heavy-duty conveyor from MHE won't cost any more than a mass-produced version from another company, so you'll stay within budget while having all of your needs met.
We offer several types of conveyors to suit your needs, including:
We Don't Cut Corners
We utilize custom drives and components made from wear-resistant alloys to give our conveyors the ability to perform reliably in the most extreme industrial conditions imaginable. We also rely on jig-welded construction and heavy-duty Ni-Hard bearings to help ensure long-term reliability. When you partner with us, we'll meet with your engineers to learn about your specific bulk material movement needs and we'll be on site when your new machine is installed. Our team will then ensure that your staff is trained on its operation, and we'll offer a full selection of parts and services to keep you up and running for decades to come. We also provide unique access points to make maintenance easier, and if your conveyor ever has an issue, our Critical Care team will provide timely assistance to get it back online as soon as possible.
Able to Handle All Types of Bulk Material
Our heavy-duty conveyors exceed the standards established by the Conveyor Equipment Manufacturer's Association (CEMA) and can be utilized for a wide array of materials. Since our founding in 1927, industrial plants have relied on MHE conveyors to move cereal grains, wood chips, biomass, municipal solid waste, aggregates, cement, clinker, gypsum, phosphate, and many other forms of bulk material.
Experience the MHE Difference
Contact Materials Handling Equipment today if you would like additional information about the heavy-duty conveyors we offer to businesses throughout the U.S. We'll be happy to provide a no-obligation consultation.