Custom Bucket Elevators to Support Every Industry Need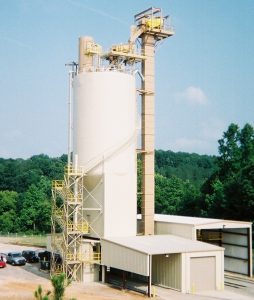 Since the 1920s, Materials Handling Equipment (MHE) has been engineering and manufacturing bucket elevators to meet the needs of every industry, including those with abrasion, corrosion, and extreme temperature demands.  MHE is able to custom design our bucket elevators based on your specific job requirements, thus effectively reducing the costs incurred from purchasing mass produced equipment with superfluous features you don't need or want.  Our bucket elevators have more features available to you than any other manufacturer, but you only choose the features you need.
MHE was one of the first companies to introduce the Severe Duty Class and pioneered the Cement Class design bucket elevators.  We continuously develop new techniques and research historical information in order to improve the quality of our bucket elevators.  Our unique designs help to streamline bulk handling operations, including Ni-Hard gravity take-up bearings to increase service life.  With over 90+ years experience, MHE is one of the most highly respected and trusted manufacturers of bucket conveyor systems in the industry.
Our bucket elevators are custom made to meet your requirements:
Industrial Duty – Standard grade, Food Grade (Belt-Type)
Mill Duty – Industry Specific – Wood Chip, High Speed (Belt-Type)
Heavy Duty – Application Sensitive, Heavy Construction Features, Hot Lime
Cement Mill – 20 year service construction, Special Maintenance Features
Severe Duty – Special Applications, Super Capacity, Rubber Lined,
Bucket Elevators Specifications:
Capacities to 1500 TPH
Heights to 200 feet
Inclined Models from 60 degrees
Temperatures to 1000 degrees F
Continuous, Centrifugal, High Speed, Super Capacity
Multiple Drive Arrangements & Options
Single & Double Chain and Standard or Steel Belts
MHE not only engineers and manufactures our bucket elevators, but we also work with our clients through every step of the process.  As the designer, engineer, and builder, you will be working with MHE throughout the entire process of designing your bucket elevators, installation and service.
To contact MHE for more information on bucket elevators click here today.