Custom Bucket Elevators That Can Meet the Needs of Any Industry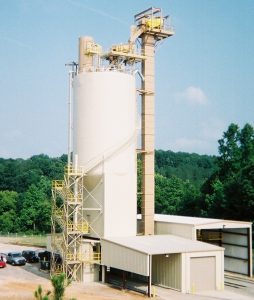 Since the 1920s, Materials Handling Equipment (MHE) has been engineering and manufacturing bucket elevators to meet the needs of every industry, including those that face challenges such as abrasion, corrosion, and extreme temperatures. We offer unmatched industry experience and are proud to note that many of our conveyors are still in operation more than a half-century after delivery. MHE custom designs bucket elevators based on each client's specific job requirements, thus effectively reducing the costs incurred from purchasing mass-produced equipment with superfluous features.
MHE was one of the first companies to introduce the severe-duty class of bucket elevator conveyor and pioneered the cement class. We continuously research historical information and develop new techniques to improve the quality of our bucket elevators. Our unique designs help streamline bulk handling operations. For example, we utilize Ni-Hard gravity take-up bearings, which help increase service life. We also utilize custom components and wear-resistant alloys
Types of Bucket Elevators
No matter what type of bulk materials you're working with, or how extreme the environment is, we can manufacture a bucket elevator that meets your needs. Our bucket elevators can be continuous, centrifugal, or high-speed, and can have multiple drive arrangements. Classifications include:
Industrial duty – Options include standard grade and food grade (belt type).
Mill duty – These are industry specific and can include options for wood chips or conveyors that operate at higher speeds (belt-type).
Heavy duty – These bucket elevators are manufactured for severe conditions and utilize heavy-duty construction features. Hot lime is an example of the materials that can be conveyed.
Cement mill duty – These feature heavy-duty construction that allows for at least 20 years of service. They also come with special maintenance features.
Severe duty – For special applications, we offer super-capacity and rubber-lined bucket elevators.
Specifications
We'll meet with your engineering team to learn about your facility's needs and environment so we can customize a long-term solution. We'll work with you through every step of the process, including the design, installation, and service. We can provide bucket elevators within the following specifications:
Capacities up to 1500 TPH
Heights up to 200+ feet
Inclined models up to 60 degrees
Temperatures up to 1200 degrees Fahrenheit
Contact MHE today. We'd be happy to schedule a consultation to answer any questions you have about the heavy-duty bucket elevators we offer.