Heavy Duty Industrial Conveyor Solutions from Materials Handling Equipment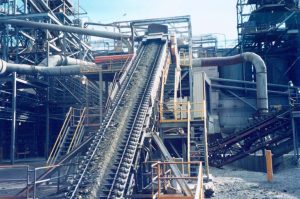 If your company needs an efficient way to move large quantities of bulk materials, it's important that you choose an industrial conveyor manufacturer that has a reputation for reliability. At Materials Handling Equipment (MHE), we have been helping businesses from a wide range of industries achieve their conveyance goals for more than 90 years by providing heavy duty conveyors that are built to perform reliably even in the most extreme environments. Our conveyors feature heavy duty steel construction and customized components that allow them to work like new for decades.
Conveyor Types
Whether your plant needs to convey boiler ash, cement, food waste, clinker, wood chips, biomass, or some other type of bulk material, we can provide an industrial conveyor that will get the job done efficiently. We manufacture and install bucket elevators, belt conveyors, drag conveyors, screw conveyors, pan conveyors, and apron conveyors that will perform while being subjected to extreme temperatures or highly abrasive and corrosive environments.
Contact MHE Today
If you would like to schedule a site visit, we will be happy to listen to your challenges so we can determine your specific conveyance needs and design a conveyor system that will meet them reliably for many years. Once your industrial conveyor has been manufactured and installed, we will train your employees on its operation, and our critical response team will be there to help if you ever experience an issue.
Contact Materials Handling Equipment today for more information.