Conveyor Manufacturing, Customization & Support From MHE, a Leader in Service Excellence
For over 90+ years, MHE has been dedicated to providing you with durable, dependable conveyors specifically designed to withstand and resist abrasion, corrosion, and high temperatures. Whether you're looking for a drag conveyor to transport heavy-duty loads or a bucket elevator for your cement mill, MHE can provide a custom solution to meet your requirements. We stand by our selection of long-lasting conveyors and their ability to boost productivity, raise profits,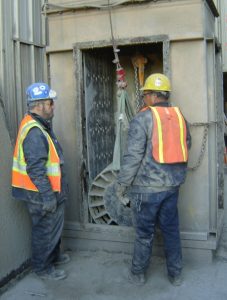 and reduce labor costs.
MHE is an industry leader in bringing you affordable customized conveyors.  For example, we can design a screw conveyor that meets your individual requirements, whether it's for unloading corn or cement into a silo.  With MHE, you don't have to settle for conveyors sold on an "as is" basis. Power and utility, chemical, construction, and other industries that require conveyors are always evolving, and MHE has kept up the pace all these years when it comes to meeting these constant changes head-on.
We also understand that sometimes equipment malfunctions and conveyors shut down. In order to further our dedication to keeping your business running, we offer our timely yet thorough Critical Care Service. From parts installation to service maintenance, MHE assists you with every step, whether you're in need of operations training or a new chain and pans for your apron conveyor.
Maintaining our impressive history of innovation, MHE keeps track of what's new in your industry and brings you the customized systems you require to keep your business running efficiently.  We are also there to assist you with our Critical Care Service and 90+ years of expertise. MHE continues to be a leader in custom conveyor manufacturing and looks forward to supplying you with whatever you may need now and for the future of your business.
For more information on how MHE can serve you, please call (770) 426-3900 or e-mail us at info@mheus.com.