Materials Handling Equipment Designs & Manufactures Industrial Duty Waste Conveyor Systems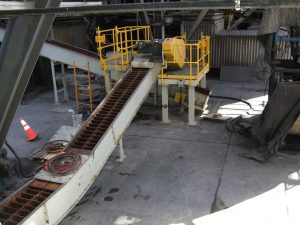 If your industrial plant needs to move bulk industrial waste materials quickly, efficiently, and reliably, then Materials Handling Equipment (MHE) can provide the solution you've been looking for. We've been providing custom heavy-duty conveyor solutions for a wide variety of industries since 1927, and we're confident that we can engineer a custom waste conveyor system that meets your plant's specific needs.
Customization is Key
When you partner with MHE, we will visit your plant to discuss your specific conveyance needs, whether you are dealing with food waste, boiler ash, clinker, or some other type of industrial waste. Once we have studied all of the variables, including the space the waste conveyor will occupy and the manpower that will operate it, we will custom engineer a conveyor system that will accomplish you goals while being able to withstand the most difficult conditions. That's because we are an industry leader when it comes to conveyors that are able to function in extreme temperatures or highly corrosive and abrasive environments. Additionally, our conveyors feature heavy duty Ni-Hard gravity take-up bearings, easy-access maintenance points, and custom-engineered drive components, which will help them to function optimally for many years.
The different types of industrial conveyors we manufacture include:
Bucket elevators
Drag conveyors
Pan conveyors
Screw conveyors
Apron conveyors
Belt conveyors
And more
If you would like additional information about our company or having a custom waste conveyor manufactured for your plant, contact Materials Handling Equipment today.