Custom Conveyors for a Wide Array of Applications & Industries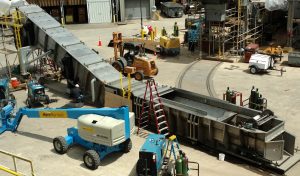 Since 1927, Materials Handling Equipment (MHE) has been providing custom conveyors to meet the growing demands of many industries, and we continue that tradition today. Many other companies build standard conveyor systems and sell them as is, without considering the specific needs of their clients. At MHE, we only build our equipment based on your specifications, so you won't have to pay for equipment and features that you don't need and only prove to hinder your operations rather than enhance them.
When you partner with MHE, we'll consult with your engineers to develop an understanding of your specific goals, and we'll produce a custom conveyor that meets them. We'll also ensure your conveyor is installed correctly and provide training on its operation for your workers. And, if there's ever an issue, we'll be standing by 24/7 to provide a timely resolution.
We're Respected Industry Leaders
We manufacture custom conveyors to meet the requirements of our clients who deal with the most severe industrial conditions. In fact, we offer five different classes of conveyors: industrial duty, mill duty, heavy duty, cement mill duty, and severe duty. It's this level of specification that allows us to customize each conveyor for your application.
We have fulfilled the needs of power plants handling ash by providing custom conveyors for hot and abrasive materials, and we've satisfied the needs of cement plants by delivering custom conveyors that handle all of the harsh conditions prevalent in the industry. We've also developed some of the original cement-mill class bucket elevators, drag conveyors, and screw conveyors that helped evolve this industry into what it is today. Additionally, when the coal industry asked for our help, we created custom conveyors with the special corrosive protection it required. Not surprisingly, MHE also played an integral part in the development of the Conveyor Equipment Manufacturers Association (CEMA) standards that are still in use today. MHE goes above and beyond those original standards to produce the most efficient, reliable, cost-effective, and low-maintenance custom conveyors on the market. With many decades of experience, we're one of the most respected and trusted manufacturers in the industry.
Some of the custom conveyors that we can engineer and manufacture to your specifications include:
Radial or linear loaders, slider belts, and shuttles
Live bottom and special leveling bins and dischargers
Specialized feeders, including screw, drag, apron, and fuel
Shaftless and reversing options
Pug mills, mixers, and conditioners
Waste-handling and exotic-material conveyors
Reliability is Key
Our conveyors outperform those offered by our competitors because of the extra attention we give to the design and manufacturing processes. We rely on custom drives, wear-resistant alloys, heavy-duty Ni-Hard bearings, and other upgrades that allow our custom conveyors to operate reliably in the most severe conditions.
Would you like additional information about the custom conveyors we manufacture? If so, contact Materials Handling Equipment today to schedule a consultation. We'll be happy to answer your questions and help you select the ideal conveyor to meet your company's goals.