Custom Conveyors at Standard Prices From Materials Handling Equipment (MHE)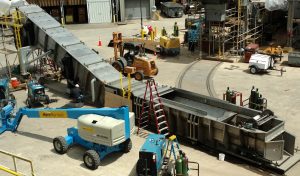 Since the 1920s Materials Handling Equipment (MHE) has been providing custom conveyors to meet the growing demands of many industries, and we continue that tradition today.  Many other companies build standard conveyor systems and sell them as is, without considering the specific needs of their clients.  At MHE we only build our equipment based on your specifications, so that you don't pay for equipment and features that you don't need and only prove to hinder your operations rather than enhance them.
It was in the 1930s that MHE began producing custom conveyors to meet the requirements of our clients who deal with the most severe conditions.  We fulfilled the needs of power plants handling ash by providing custom conveyors for hot and abrasive materials.  We fulfilled the needs of cement plants by developing custom conveyors to handle all of the harsh conditions prevalent in the industry; we developed some of the original Cement Mill Class Bucket Elevators, Drag Conveyors, and Screw Conveyors that helped evolve this industry into what it is today.   We also fulfilled the needs of the coal industry by developing custom conveyors with the special corrosive protection it required.  MHE also played an integral part in the development of CEMA standards (Conveyor Equipment Manufacturers Association) that are still in use today.
MHE has gone above and beyond those original standards in order to produce the most efficient, reliable, cost-effective, and low-maintenance custom conveyors on the market.  Our 90 plus years of experience has made us one of the most well respected and trusted manufacturers of custom conveyors in the industry.
Some of the custom conveyors that we engineer and manufacture to your specifications are:
Radial or Linear Loaders, Slider Belts, Shuttles, Waste Handling
Live Bottom and Special Leveling Bins and Dischargers
Special Feeders including Screw, Drag, Apron and Fuel
Pug Mills, Mixers, Conditioners, Shaftless, Reversing, Exotic Materials
To contact MHE for more information about custom conveyors click here today.