Let Materials Handling Equipment Custom Engineer a Heavy-Duty Bucket Elevator System for Your Plant's Grain Elevator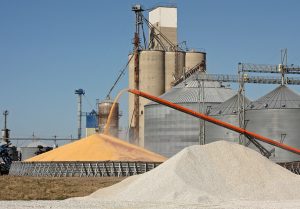 Grain elevators are a crucial component of many agricultural plants, and if they can't function reliably, a facility can quickly grind to a halt. If you want a grain elevator that you can count on to perform optimally even under the harshest of conditions, look to Materials Handling Equipment (MHE). We've been providing custom-engineered conveyor systems to some of the world's top agricultural companies since 1927, and we can provide a heavy-duty bucket elevator system that will accomplish all of your grain conveyance needs.
Customization is Key
While many of our competitors offer cookie-cutter conveyor options, MHE stands out by producing the most durable systems on the market and offering unmatched levels of customization. When you choose us to provide a bucket conveyor system for your grain elevator, we will make sure it is designed for the exact space it will occupy as well as the number of staff who will operate it. The benefits of a custom-engineered bucket elevator from MHE include:
A longer service life because of heavy-duty construction
A wide range of options, including capacities to 1,500 TPH, heights to 200 feet, and centrifugal, continuous, high-speed, and super capacity designs
The ability to withstand extreme heat, abrasion, and corrosion
Customized features to help improve efficiency
Minimal maintenance due to easy-access features
Don't settle for a grain elevator system that doesn't accomplish all of your company's goals. Call Materials Handling Equipment today to learn more about the custom bucket elevators we offer.