Cement Conveyors – When Being Tough Isn't Enough
Materials Handling Equipment pioneered special features for cement conveyors used as early as the 1930s, and provided nearly all the BE, DC, and SC for the leading cement producers like Marquette, Lone Star, and Essroc. We've capitalized on that long history for continued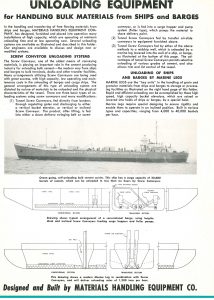 innovation, and today we are a go-to manufacturer for cement companies. Part of the reason for that is our commitment to making durable machines that can withstand the challenging conditions present during cement manufacturing. We've developed proven methods for making cement conveyors and clinker conveyors impervious to extreme temperatures, serious abrasion and powerful corrosives.
For every step of the process we can build you a conveyor including:
Apron conveyors
Screw conveyors
More
We will custom design a conveyor to fit your operation. Where other conveyor manufacturers simply sell you a generic conveyor to do the job, we custom tailor a machine that accounts for the size and shape of your facility, workforce and production load. This attention to detail guarantees efficiency, which saves you time and money. All of our cement conveyors are built with extra heavy construction, meaning they'll last for decades no matter what type of punishment you dole out.  Many of our conveyors are still running beautifully after four decades, meaning those individual conveyors have been on the job longer than many of our competitors have been in business.
Call or email Materials Handling Equipment today for more information on new cement conveyors or parts and services that we can provide for MHE conveyors you already own.