Bucket Elevator Options from a Leader in Custom Conveyor Manufacturing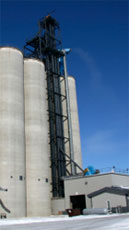 MHE has more than eight decades of providing custom conveyors to meet client specifications and industry changes, and we first debuted our innovative Cement Mill Class Bucket Elevator in the 1930s.
Since then, we have expanded upon that original design to serve a variety of industries.  Whether you're transporting minerals through a mineshaft, feeding chemicals for your process, or lifting heavy loads of cement, we can design a bucket elevator around your individual requirements.
Choose from features including:
Hoist beam, service platform, and inching drive options
Adjustable strike-off plate to prevent material fall back
Top venting and lightweight split hoods
Dust-tight shaft seals
Reinforced head section and motor platforms with landing pads
Special heavy-duty casing design features
Adjustable bearing stops and leveling shim packs
Easy access doors and ports for maintenance and inspection
Various belt and chain drive options
More
Allow MHE to design a durable, versatile bucket elevator to boost your productivity at an affordable cost.  A leading in custom conveyor and bucket elevator manufacturer, we make sure that all our conveyor systems are built to withstand abrasion, corrosion, and high temperatures, so you get the quality you need at a price you can handle.
Contact us today for a bucket elevator that meets the needs of both your business and your industry.