Need a Heavy Duty Concrete Conveyor? Look to Materials Handling Equipment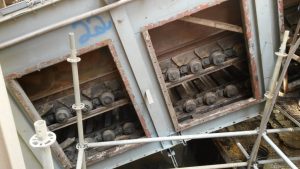 Materials Handling Equipment (MHE) is recognized throughout the world as one of the leading authorities on heavy duty industrial conveyors. We've been custom-manufacturing conveyor systems since 1927 – so nobody can match our knowledge and experience – and we can engineer a concrete conveyor for your company that can handle the unique challenges that moving concrete provides.
There are several advantages to choosing a custom conveyor from MHE instead of a generic conveyor from another manufacturer. When you turn to us, our engineers will review your company's needs and specifications and design a concrete conveyor system that is tailored to fit your operation. We will take into account the size of your facility, the location the conveyor will occupy, the size of your work force, and the load the conveyor will bear, among other factors. And, because reliability is of the utmost importance in an industrial setting, MHE can engineer a concrete conveyor that is able to perform smoothly while subjected to extreme conditions, including:
High temperatures
Powerful corrosives
Highly abrasive materials
Additionally, our conveyors are built with precision and extra heavy construction to ensure that they will continue to do their jobs for decades. That said, we won't leave you hanging if an issue occurs. Our 24-hour critical response program ensures that any problems will be addressed promptly, providing you with additional peace of mind.
If you would like to learn more about the custom concrete conveyor systems we engineer, contact Materials Handling Equipment today.