Move Bulk Materials Efficiently With a Custom Industrial Conveyor System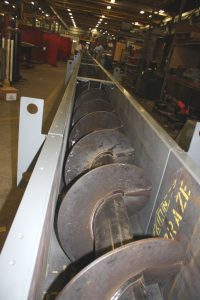 Are you trying to choose a company to provide an industrial conveyor system for your plant? If so, you're probably hoping to partner with a manufacturer that has extensive experience and a reputation for providing an outstanding product, and you'll be hard-pressed to find a better fit for those criteria than Materials Handling Equipment (MHE). We've been a recognized leader in the manufacture of industrial conveyor systems since 1927 and have a long list of satisfied customers. We stand out from our competitors by offering a completely customized experience. Instead of providing "one-size-fits-all" conveyors that have to be adapted to a company's requirements, we custom manufacture industrial conveyor systems to meet a client's specific needs.
Our Heavy-Duty Conveyors Deliver Unmatched Reliability
Would you be surprised to learn that some of our industrial conveyor systems are still on the job, performing reliably day after day, more than 50 years after they were delivered? That's a testament to the unmatched quality we offer. We utilize heavy-duty components that can withstand the most extreme industrial environments, so you can rest assured that your conveyor will operate efficiently over the long term—no matter how severe the conditions.
A Wealth of Options
The type of conveyor you need will likely depend on the industry you represent and the material that needs to be moved. We offer bucket elevators, drag conveyors, screw conveyors, apron conveyors, belt conveyors, and more, and can provide an option for everything from grains and cement to aggregates and wood chips.
Don't settle for an industrial conveyor system that doesn't fulfill all of your company's needs. Contact MHE today and let us provide a customized, long-term solution.