Experienced Material Handling Engineers Offering Custom Conveyor Solutions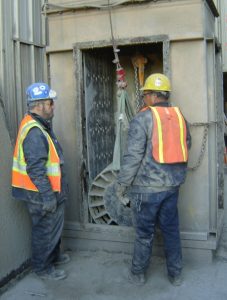 Materials Handling Equipment (MHE) has become a trusted leader in the conveyor manufacturing industry by offering a product that most of our competitors can't: custom-designed, heavy-duty conveyors. Our material handling engineers recognize that a standard conveyor won't get the job done for many industries and applications, so we offer heavy-duty conveyors that operate reliably in the most extreme conditions imaginable. We offer bucket elevators and drag, screw, apron, belt, and pan conveyors that can handle all types of bulk material, including aggregates, food waste, biomass, phosphate, and more.
Offering Unmatched Experience
We've been providing conveyor solutions since the 1920s and have served some of the largest industrial firms in the nation, which means our material handling engineers offer an incomparable level of experience. When you partner with us, you can expect personalized service as we design and manufacture a custom conveyor that will improve your plant's efficiency and increase its productivity.
Our custom conveyors are able to withstand severe abrasion, corrosion, and temperature thanks to:
Wear-resistant alloys
Custom drives
Heavy-duty Ni-Hard bearings
Zinc-coated hardware and premium-quality seal material
Put Your Trust in MHE
There's no better testimonial for the abilities of our material handling engineers than the fact that many of our custom conveyors are still operating reliably more than a half-century after initial delivery.
Contact MHE today for more information about the custom, heavy-duty conveyors we offer. We'll be happy to schedule a site visit at your plant to discuss your bulk material conveyance needs.