Custom Helical Screw Conveyor Manufacturing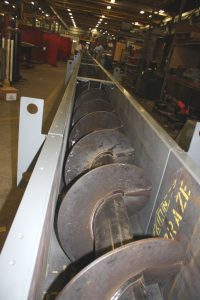 A helical screw conveyor is a cost-effective and exceptionally efficient option for the handling of semi-solid bulk material in an industrial environment. However, your plant may have specific requirements and goals that a "cookie-cutter" screw conveyor might not be able to accomplish. That's where Materials Handling Equipment (MHE) enters the picture. We've become one of the most respected manufacturers in the industry by offering custom, heavy-duty conveyors for about the same price as the one-size-fits-all conveyors that have flooded the market. We're able to offer a superior product because we've been solving material handling dilemmas since 1927 and possess a level of expertise that the competition simply can't match. In fact, we helped write the Conveyor Equipment Manufacturers Association's standards.
Why Is Customization Important?
Maximum efficiency is key for your operation, and we can manufacture a helical screw conveyor that's a perfect match for your needs. We offer a variety of categories, including:
Sectional
Ribbon
Cut-and-fold
Serrated with quarter-, third-, half-, and full-pitch
Double flighting
Hardfacing
Perhaps most importantly, we can provide a heavy-duty conveyor that will operate reliably in environments featuring extreme temperatures, corrosion, or abrasion.
Get Started Today
Contact MHE today and we'll be happy to work with your engineering team to produce a helical screw conveyor that will provide decades of efficient performance for your company. Once manufacturing is completed, we'll ensure that it is installed flawlessly and that your workers are trained on its operation and safety protocols. And if there's ever an operation issue, we'll respond immediately to address the problem and get your conveyor back on line.