Cement Screw Conveyor Designs That Are Rugged, Dependable & Efficient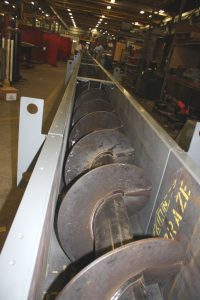 The market has plenty of standard screw conveyor manufacturers for you to choose from, but if you choose Materials Handling Equipment (MHE), we can custom design a cement screw conveyor that perfectly suits your needs. We'll use our 90+ years of experience to build a conveyor that boosts efficiency in your plant while still working in harmony with your existing pieces. We do this by helping you to choose the right width, length, incline, and more for your conveyor, and then by using the latest research on materials and design as we build it. Our ability to customize allows us to offer you capacities up to 300 TPH, diameters to 6 feet, lengths to 300 feet, inclines up to 60 degrees, and temperature resistance to 2,200 degrees Fahrenheit. We also provide unique access points from the top and ends to make maintenance easy.
When you partner with MHE for your cement screw conveyor, you can select from a variety of configurations to suit your needs, including:
Sectional
Ribbon
Cut-and-fold
Serrated
Why Should You Partner With MHE?
We've been exceeding the expectations of companies throughout the U.S. since we first opened our doors in 1927. We've served some of the top producers in the cement industry, including Holcim, CRH, Lehigh, Argos, and Eagle Materials, and we continue to use the latest technologies to stay ahead of the manufacturing curve. And instead of offering "cookie-cutter" options like many of our competitors, we build custom cement screw conveyors for a similar cost. This ensures that your conveyor will be a perfect fit for your facility, workforce, and production load.
When you choose us to manufacture your custom cement conveyor, we'll visit your plant to discuss your goals and survey the area your new conveyor will occupy so we can ensure a perfect fit. Once manufacturing is completed, we'll make sure that your new conveyor is installed flawlessly, and we'll train your staff on its operation and safety protocols. And, if an issue ever arises, our 24-hour Critical Care team will be standing by to assist so your plant can be back online as soon as possible.
Cement Conveyors for Any Environment
We know cement plants harbor some of the toughest conditions in any industry, we'll build you a cement screw conveyor that lasts as long as you need it to. We're an industry leader in creating conveyors that withstand brutal heat, corrosion, and abrasion with features like wear-resistant alloys and heavy-duty Ni-Hard bearings and hardfacing. As a result, many of our machines, including drag, apron, belt, and pan conveyors, as well as bucket elevators, have been running longer than many of our competitors have been in business. In fact, many of our conveyors are still providing reliable day-to-day service more than a half-century after we originally installed them.
Don't Wait Any Longer
If you're interested in a tough, custom-designed cement screw conveyor for your company, contact MHE today. We look forward to adding your company to our long list of satisfied customers.